Welcome to Contacts+!
Contacts+ is a powerful contact management tool that helps you stay fully connected with your contacts. As a centralized database, Contacts+ syncs together all of your address books, merges duplicates and adds more complete and enriched contact information from the web. Contacts+ lets you keep all your contacts synchronized and up-to-date on your phone, desktop and even in your Gmail. Download our apps and you'll be able to access your contacts everywhere you need them.
This guide serves as a resource for getting started with our Web App. We outline the first things to do as a new user, best practice actions to take, and how to become a power user. Welcome aboard!
Contacts+ resources:
Knowledge Base: Our Knowledge Base is a good place to find all Contacts+ help articles and how-to guides.
Contact Us: If you have any further questions, don't hesitate to contact our Contacts+ Support team. We are here to help. Contact us here.
Blog: Interested in the latest things on customer intelligence, contact management, and Contacts+ news? Subscribe to our blog to stay in the loop.
---
What additional insights does Contacts+ for Gmail offer?
If you're a Gmail user, then Contacts+ for Gmail lets you gain additional insights into your contacts right inside of your Gmail window. But rather than just showing you information about your contacts, Contacts+ for Gmail lets you interact with them in other ways as well.
Add contacts directly to your Contacts+ address book
Edit information about a contact, such as their profile photo, name or company
Call a contact via Google Hangouts
Add contact to Favorites
Make notes on contact and add private tags
Teams support (team notes/tags, known by, edit) when you have Teams subscription.
Note: Contacts+ for Gmail is currently only available for Google Chrome.
---
First three steps:
To set yourself up for success, we'll walk you through the first crucial steps in setting up your Contacts+ account.
1. Install Contacts+ for Gmail from the Google Chrome Store
We recommend keeping your Chrome browser up-to-date.
Keep in mind that if you currently have plugins, Google Labs, or extensions enabled on the right-hand side of your Inbox, you may need to disable them (as they will cause compatibility issues). For further assistance, please email our Support team.
2. Create your Contacts+ account
You can start using Contacts+ for Gmail right away by clicking "Sign In with Google" and authorizing your Google account. Another option is to use the Contacts+ for Web 'Getting Started' guide to create an account.
To get full access to Contacts+ features (such as lookup additional details about your connections) an address book needs to be connected. You can connect a Google, iCloud, or Exchange / Office 365 from Contacts+ for Web.
3. Complete the onboarding
---
Actions:
Now that you've finished the first four steps as a new user, next we'll walk you through best practice guidelines for getting the most out of Contacts+ for Gmail.
1. Use the search bar
You can search for any contacts in your Google Contacts, Contacts+ address, or even an email address (of a contact which is not already in your Contacts+ account
If the contact is not already in your Contacts+ account yet, you'll have the option to add the contact.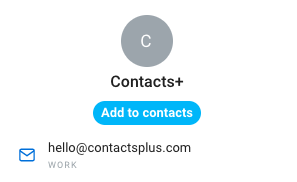 2. Hover your cursor over email addresses/names
In addition to using the search bar, if you hover your cursor over an email address or name in your Google Contacts, the contact's information will appear in Contacts+ for Gmail.
Note, that selecting an email thread will show that person in your Contacts+ for Gmail dashboard
3. Updates
Apply updates where you see fit. If you ignore an update, it will not be added to your contact.
4. Edit, create Google Calendar invites, favorite, and view in the Contacts+ for Web app
Use the icons near the contact's name to edit (pencil icon), favorite a contact (star icon), or view the contact in your Web app (export icon).
5. View the Activity information
When viewing contact information, you'll see basic contact information and social activity.
Social activity: If you've connected your Twitter handle, this will show recent tweets.
6. Copy information
We made it easy to copy information from a contact within Contacts+ for Gmail.
Simply move your cursor over the information you would like to copy. To the right of the information, a small Clipboard icon will appear. Click on that Clipboard icon and it will copy the information to your clipboard so you can paste it somewhere else.

---
Become a power user:
Are you a power user yet? Almost! In the final portion of this Getting Started guide, we'll show you a few of our favorite tips and tricks.
1. Add tags/notes to your contacts
You can add new tags, add existing tags, and add notes to your contacts without leaving your Inbox.
2. Find out more about your contacts
Use the social data (thumbnails) to easily link to social profiles and social media accounts and associated websites.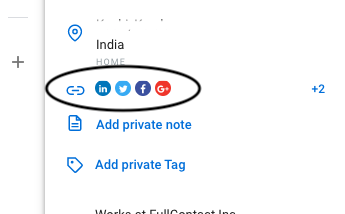 3. Minimize Contacts+ for Gmail
To minimize the Contacts+ for Gmail, navigate to the top right of your Gmail navigation and click the Contacts+ icon. You can open Contacts+ for Gmail by clicking the same icon.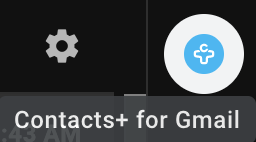 Thanks for joining Contacts+! By the end of this guide, you should be able to leverage your Contacts+ address book to improve your contact management challenges.