What is Contacts+ Dossiers?
Like the name suggests, Contacts+ Dossiers gives you custom dossiers attached directly to your Google Calendar Events. With Dossiers, you're able to add context to your relationships via our cloud-based address book and suite of developer APIs.
How can Dossiers help me?
Do you have meetings with attendees that you don't know (or don't know very well)? If so, Dossiers will give you a well-rounded profile of your attendees. Using the power of Contacts+, we can show you social profiles, occupation, demographics, interests, bio, and more. Contacts+ Dossiers will add a dossier link to the description of your meetings that allows you to see information on the attendees of the event. It will also make it easy to ensure that all attendees are in your address book, automatically.
What are the features of Dossiers?
Context rich dossiers created for the calendar events you attend.
A link to the dossier automatically added to your calendar events.
Optionally have all attendees of events you attend added to your address book.
How can I create my account?
To create your Dossier account, go to the Contacts+ Integrations page, and click the Dossier icon >> Get Started
What calendar providers does it work with?
Currently, it only works with Google Calendars.
How can I add multiple Google accounts to a dossier?
To add multiple calendars, navigate to your dossier account, on the left sidebar, you have the option to add google accounts.
I'm noticing a "Bad Gateway Error" when signing up. What's the fix?
If you're noticing this error, go back and get started again.
The info associated with my company in Dossiers is incorrect. How can I edit this?
Please send an email to our Support team and we will fix this in our backend.
Why am I only seeing two weeks in my Dossiers webpage?
We currently have it set to display two weeks as this is the query we give Google.
How can I disable/delete my Dossiers account?
In your Dossiers account, click on your profile photo in the upper-right-hand corner, then click Disable Account.
What does Pause Syncing do?
Pause syncing will prevent Dossiers from syncing new events.
What are the Settings in my Dossiers account?
Below are the different settings available in your Dossiers account. You can enter the checkbox to change settings.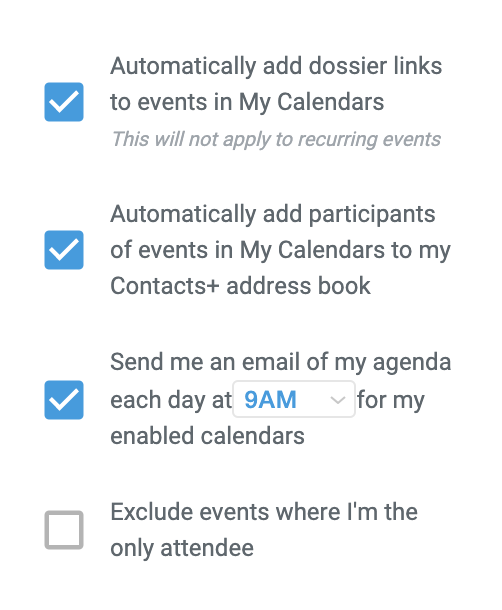 What does the Exclusion List mean?
With the Exclusion List, you can enter in domains and emails that you do not want info to show up for when viewing a dossier. This only applies to the user when they are logged in and viewing a dossier. If it's the public view, it will show everyone.