In the industry of business card scanning, most platforms either opt for OCR (computerized transcription), human transcription, or a combination of both. At Contacts+, transcription is done by humans. Statistically, the accuracy is much higher when humans transcribe business cards as opposed to OCR. If you're curious, our elastic workforce does not know which account the business cards are coming from nor which account they are being sent to - they simply transcribe the card and our API does the work of getting that business card to your Contacts+ account.
How do I submit a business card for transcription?
In Contacts+ for Web, click on the [+] icon to upload a business card photo.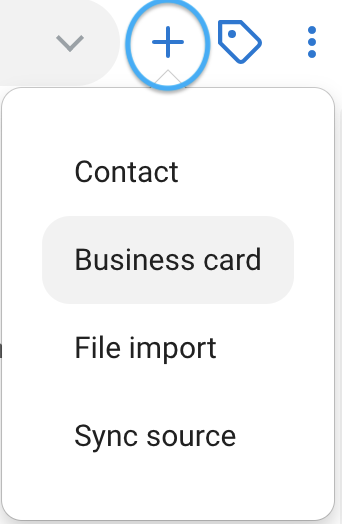 Either drag and drop the file you want to import or click on "upload from computer". Keep in mind that the photo must be JPEG/JPG, PNG, TIFF, GIF, or base64. You can also import multiple cards, but please know that each image must be a separate file.
Once you are done, click on "Import". You can add a tag if you wish to, or else click on "No thanks". A banner will be displayed on the left end indicating that the Business Card has been successfully uploaded.
Once a card scan is done until it is transcribed it will show up as 'Waiting for Transcription/Transcription to be done shortly' on the top-most section of your contact list. If there is any error/if the transcription wasn't successful you should see the respective messages too. However, if you want to check them separately, you may select the tags icon (on the top right corner of the app) > and choose 'Business Cards' under the smart tags section.
You can also check the same from your WebApp here:
Contacts+
> Click on the 'Tags' icon (the one next to the search bar on the top left-hand corner of your Web app) > Select the option 'Business Cards' under the 'Smart Tags' section of the tags drawer.
In Contacts+ for iOS:
1. In your Contacts Section, select the [+] icon in the top right-hand corner of Contacts+ search bar, then select Capture Business card. This will let you take a photo of a business card to send off for transcription.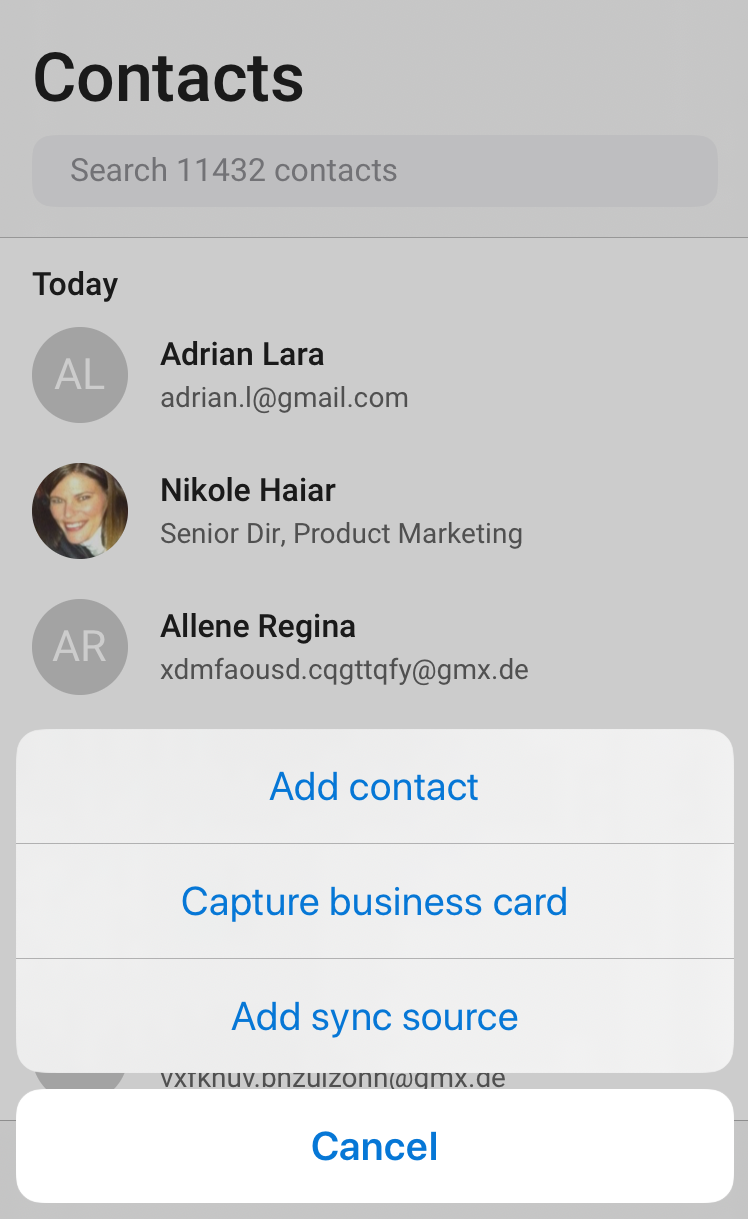 In Contacts+ for Android:
Click the + button in the bottom-right corner of the screen -> Capture Business Card. You can take a photo of your card or upload one from your Google Photos library.
How long does it take for one business card to be transcribed?
The transcription process typically takes around 20 minutes, although it can occasionally take a little longer due to the volume of cards being processed. The reason this is not instantaneous is that our apps rely upon human transcription rather than optical character recognition (OCR). However human transcription is, statistically, much more accurate than OCR.
Keep in mind that you can continuously transcribe business cards without waiting for the previous card to finish; they'll queue up and complete one after the other.
Who is transcribing my business cards?
We utilize services called CloudFactory and Mechanical Turk for our elastic workforce. These are secure services provided by Amazon and our HITs (human intelligence tasks) are under an NDA.
Why are there sometimes errors in my business card transcriptions?
While there are sometimes errors in transcription, this is rare, since our approach is to have multiple people transcribe the cards; then, we determine the proper result for each field where multiple people type the same value.
That being said, quality control can be difficult and more of a challenge with international cards. We take an approach where we have multiple people transcribe the cards, and then we determine the proper result for each field due to multiple people typing the same value. While we do tell people to type exactly what is on the card, the quality of transcription (mostly on addresses) goes down outside of the United States.
Additionally, please ensure that the picture you took was in focus and properly centered. If it's out of focus or dark, please try to take another picture of the card. Also, please ensure that the business card is designed in a way so that all relevant information is legible and understandable; handwritten notes and text will most likely not be correctly transcribed.
Additionally, business cards can sometimes contain contact data that is ambiguous. For example, if the phone numbers on a card don't contain the type, fax, mobile, work phone numbers might not be correctly assigned. Also, if the card includes two or more job titles, addresses, or even two different organizations, the transcribers will only transcribe one of them. In such cases, the transcriber has to interpret the card as best they can, which may result in data that does not match your interpretation.
Business Card Bulk Scanning
In iOS and Android:
If you wish to scan multiple cards at once, you can either simply take continuous pictures of the business cards, or press on the card count in the lower right-hand side and then choose to Capture More cards. The card count option also allows you to add Notes, Tags as well as Add Other Side of the cards: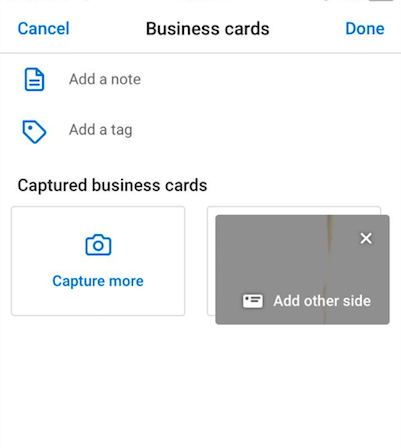 In Web:
Upload or drag/drop multiple files up to 20 MB per one upload.
Can I send my cards to my CRM?
You can also send transcribed business cards, as contacts, to a variety of CRMs, email marketing platforms, and other apps that Zapier supports. If you're unfamiliar with Zapier's platform, you can read more about the integrations they offer here.
To get started, skim through this link, which offers helpful instructions for getting started. You'll learn how to create a Zapier account, turn your 'zap' on, and then add your Zapier account to Contacts+ (links with the entire account).
Note: Business Card scanning does not work in Contacts+ for Mac and Contacts+ for Gmail.