The Contacts+ web application supports browser notifications in most leading browsers including Google Chrome, Safari, Firefox, and Opera. If you have notifications enabled in these browsers, you will get notifications when:
updates are available to review in your address book
an account needs to be reconnected
new features are added
limited time promotions are available on Contacts+ subscriptions
Accepting Browser Push Notifications
The first time you visit the Contacts+ web application, you will receive a prompt to opt-in to receive browser push notifications. If you wish to get these notifications, select `Turn on` and allow notifications when your browser also requests for permission.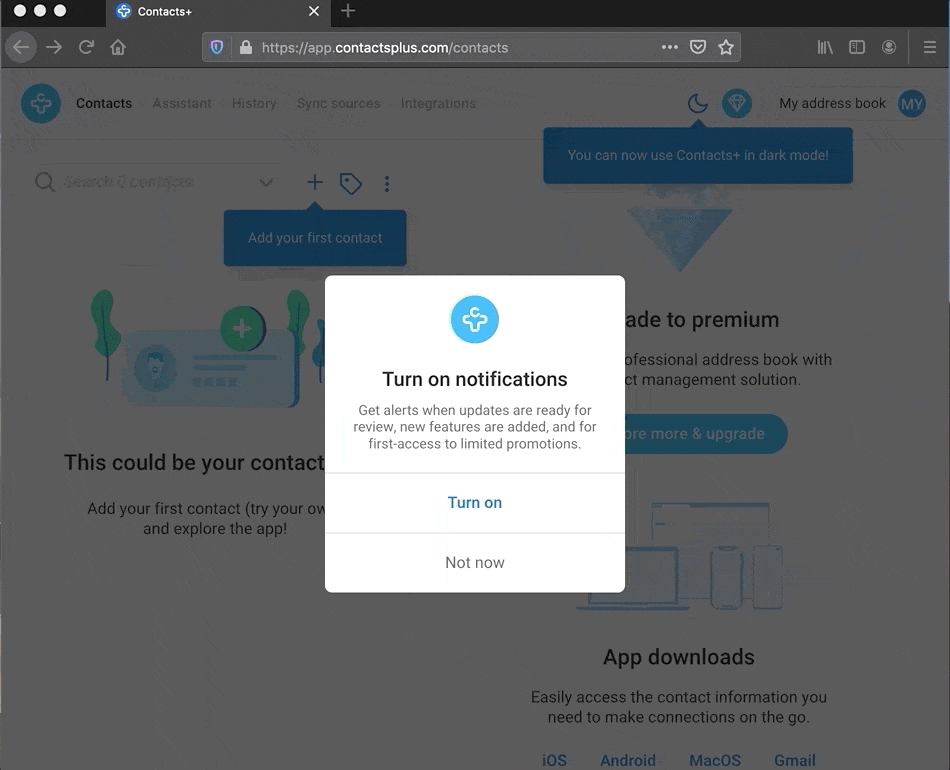 Enabling & Disabling Browser Push Notifications
The prompt to turn on or off notifications will only show on your first visit to the Contacts+ web application. To change your notification preferences after your first visit, update your browser settings by clicking the hyperlink for your preferred browser (when available) or following these steps:
Google Chrome: Open Chrome > Settings (located in the ⋮ menu in the top right corner of your browser) > Privacy and Security > Site Settings > Notifications > Find Contacts+ under the `Allow` or `Block` list where you can change preferences.

Firefox: Open Firefox > Preferences (under the Firefox menu bar label) > Privacy & Security > Scroll to Permissions > Select `Settings` for the notification line item > Select `Allow` or `Deny` next to Contacts+.

Safari: Open Safari > Preferences (under the Safari menu bar label) > Websites > Notifications > Select `Allow` or `Deny` next to Contacts+
Notification settings in Safari