With the Notes feature, you can add notes in the Contacts+ Web App to specific contacts in your address book.
Topics covered in this article:

Things to know before getting started:
Dated Notes are available for the premium subscription.
Private Notes added to contacts in Shared Address books can only be seen by the user who added the note. Click here to learn more about Teams & SMB Shared Contacts.
Dated Notes are not available in the Contacts+ mobile apps.
Upgrade today to unlock our premium features.
---
Notes
The note field is available for all contacts. Notes added to a contact in a personal address book can not be seen in Shared Address books. The notes are visible only in the address book to which they were added. If any team member needs to access a Private Note, they can use the same personal account instead of a team account.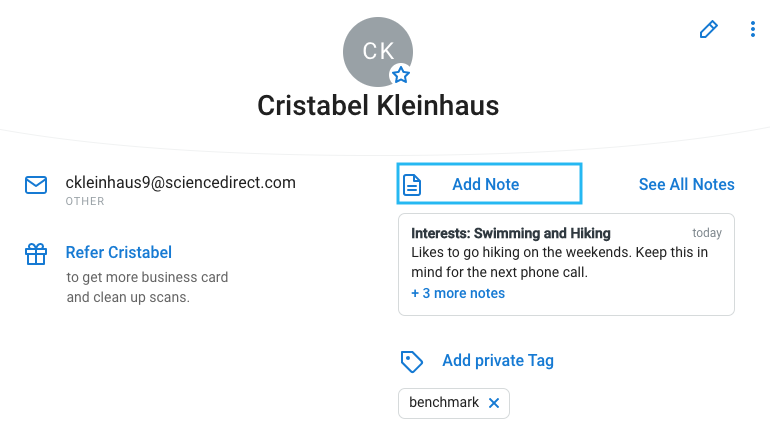 ---
Dated Notes
Dated Notes are only available for premium users and will need to be manually activated. To enable Dated Notes, visit your Contact Data in Settings and enable the Dated Notes option.
With Dated Notes, you can track when a note was added to a contact. To see a list of all the notes for a contact, open the contact record, and click on See All Notes.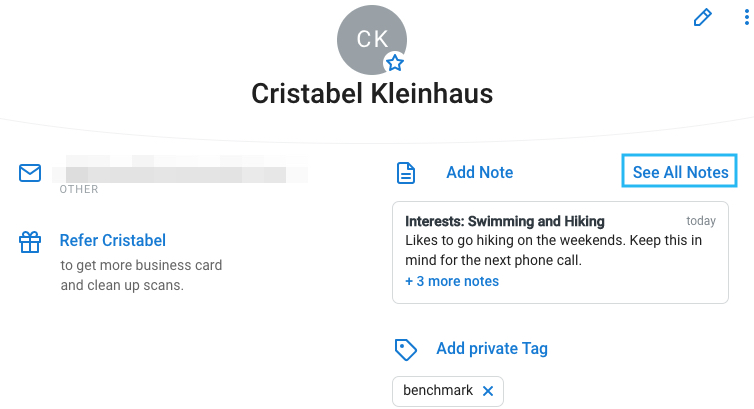 In the Notes view, you'll see the list of notes and the date the note was added. Here you can also add new notes, edit or delete previous notes. The date of a note can't be modified in your Contacts+ Web app, but it could be modified in the synced account.
The first line of the note will represent the title of your Dated Note.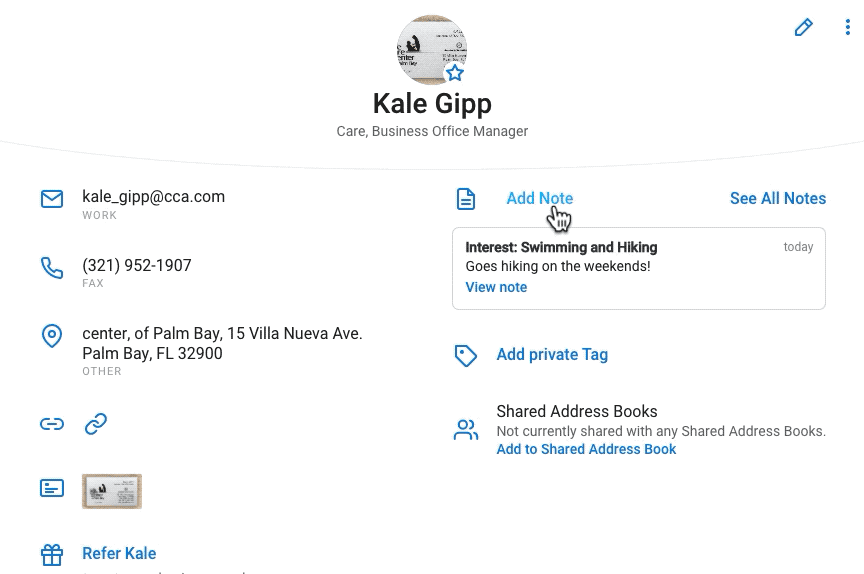 ---
Notes in the Contact's History
Notes added or deleted can be seen within the contact's history. New notes will appear in green text, and deleted notes will in red text. From the Contact's History, you can Undo a note that was deleted or added.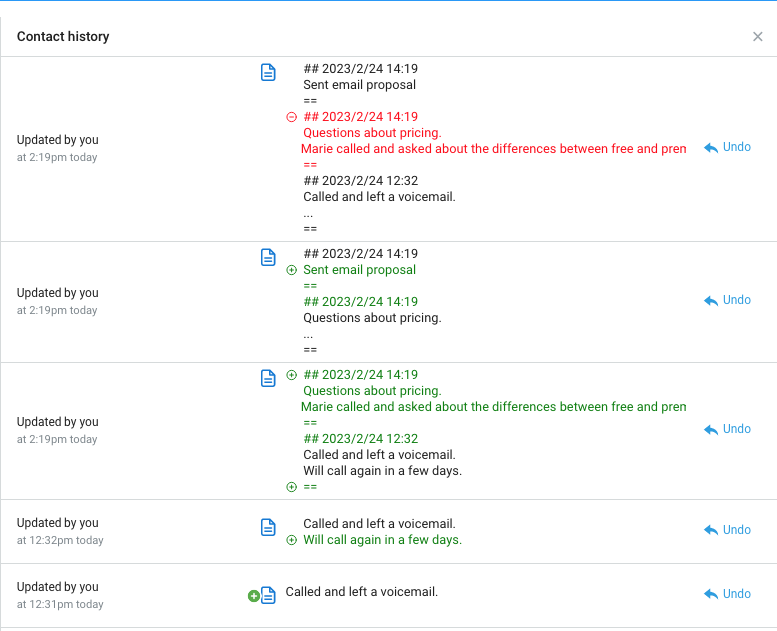 ---
Note Syncing
Notes within synced personal address books will update the contact in the third-party app. In Contacts+, the notes will appear as individual notes. However, notes synced in third-party apps will be grouped in a single note field. Syncing time varies by subscription. Premium subscriptions update every 15 minutes, while free subscriptions update once every 24 hours.
Notes added to contacts in synced address books will appear in the synced account Notes field.
---
Formatting in Synced Accounts
The Notes added to contacts synced with Google Contacts will appear in the Notes tab. Notes will have 2-pound symbols (##) for the date created, along with the note added. New notes are separated by 2 equal signs (= =).
Example:
## 2023/2/23 12:40
Emailed proposal and left voicemail.
==
## 2023/2/21 16:17
Discussed plan options. She is interested in the premium features.
==
## 2023/2/17 13:38
Hannah was excited to start using the new features.
==
---
Adding Notes in Synced Third-Party Apps
If you'd like to sync a contact's note to Contacts+, you can use the same character format. The timestamp is not required when adding notes to contacts in Google or any other third-party apps. Contacts+ will order the notes in the timeframe they were added.
Format:
## date
text
== (note separation)
## [0000/0/00]
text
==
---
Shared Address Book Notes
These types of notes are only present in the shared address books, which can be accessed and updated by the team members who are added to the specific shared address book. Notes added in shared address books do not get added to the personal address book.